Hydrogen Farm Project (HFP) ,It was proposed by The team of Li Can, academician of Chinese Academy of Sciences and researcher of Dalian Institute of Chemical Physics of Chinese Academy of Sciences。"A Hydrogen Farm Strategy for Scalable Solar Hydrogen Production with Particulate Photocatalysts" was published in Angew magazine.in《Angew》。
HFP BiVO4 crystal is used as water oxidation photocatalyst to achieve HFP for Solar energy storage and Hydrogen production, achieving STC(solar-to-chemical) over 1.9% and STH(solar-to-hydrogen) over 1.8%. Since this method is mainly similar to the process in agricultural farms, The idea is to grow crops on a large scale and harvest them as they mature, hence the team's name, "Hydrogen Farm." The "Hydrogen Farm" project needs to solve two key problems, one is how to achieve efficient photocatalytic water oxidation process, and the other is how to inhibit the reaction between oxidation and reduced species generated on the surface of the nanocatalyst.
At the beginning of the "Hydrogen Farm" project, Beijing Perfectlight Technology Co., Ltd. was entrusted by Academician Li Can's team to carry out the customized research and development of the reaction system of the project. The project has been accepted and fully put into use.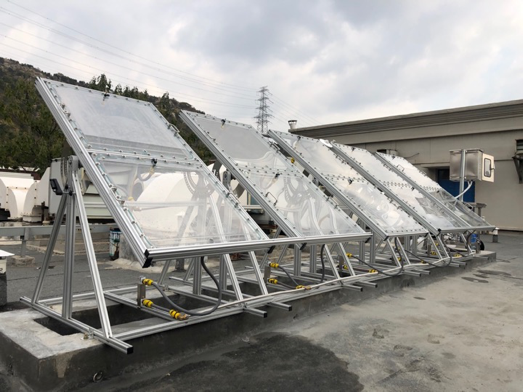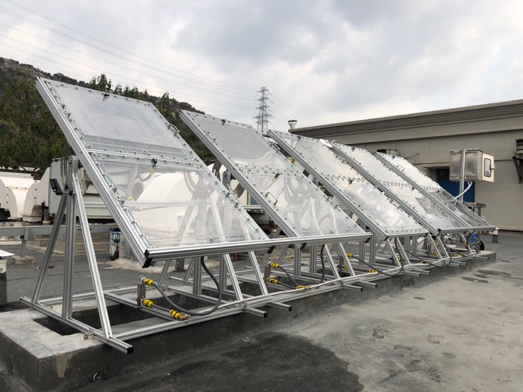 The direct sunlight array plate photochemical reaction system adopts array combination to build reaction area up to hundreds of square meters, which can monitor irradiance, ULTRAVIOLET radiation, irradiation total, pH value of solution, ORP (dioxygen-reduction Potential) and other parameters. In order to achieve the best effective light Angle, the bracket can be adjusted in the range of 20 ~ 70°. At the same time, it also has IP5 waterproof grade, weather resistance, temperature impact resistance and other necessary properties in outdoor use.

第一作者:赵越
通讯作者:李灿、李仁贵
通讯单位:中国科学院大连化学物理研究所
DOI:10.1002/ange.202001438
University of Tokyo Kazunari Domen team,The "hydrogen farm" was carried to Nature, and the safe operation of 100 m2 panel reactor array in several months was reported. Natural light was used as the reaction light source, and photocatalyst was sprayed onto the reaction plate. The maximum STH was 0.76%, which made it possible to produce clean energy by large-scale photocatalytic decomposition of water.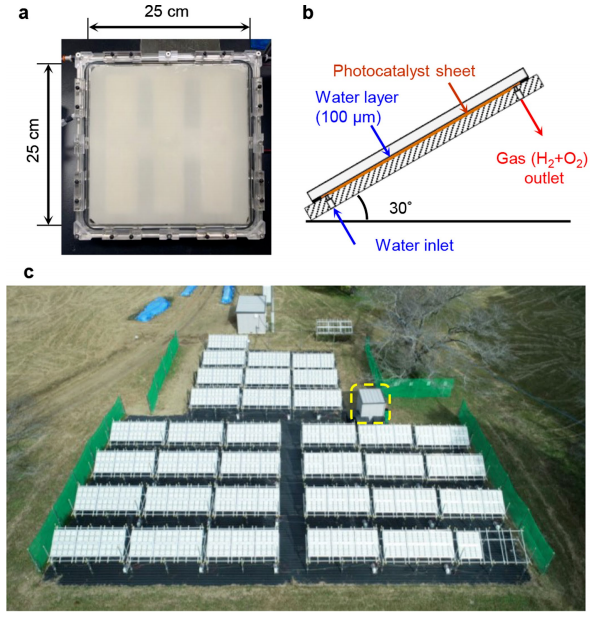 In order for photocatalytic water decomposition to be practical, 5~10% of STH is needed to achieve economically viable solar photocatalytic hydrogen production, and the industry needs to prepare photocatalysts with better stability and hydrogen production efficiency. Although current photocatalysts can be stable for several months under laboratory conditions, they still need a longer service life for industrial production and an early 'hydrogen farm'.
Beijing Bofilai Technology Co., LTD., founded in 2006, is the pioneer of domestic commercial photocatalytic scientific research instruments, gradually covering the reaction research and material characterization research of new energy, environment, fine chemical and pharmaceutical chemical materials involved in multi-field (photoelectric, thermal) catalysis, as well as engineering demonstration application system. Especially in the solar energy, photovoltaic driven artificial photosynthesis, decomposition of aquatic hydrogen, photocatalytic pollution reduction and treatment of cutting-edge research direction, has a large number of users and successful cases, is a collection of RESEARCH and development, production, sales, service in one of the national high-tech enterprises.